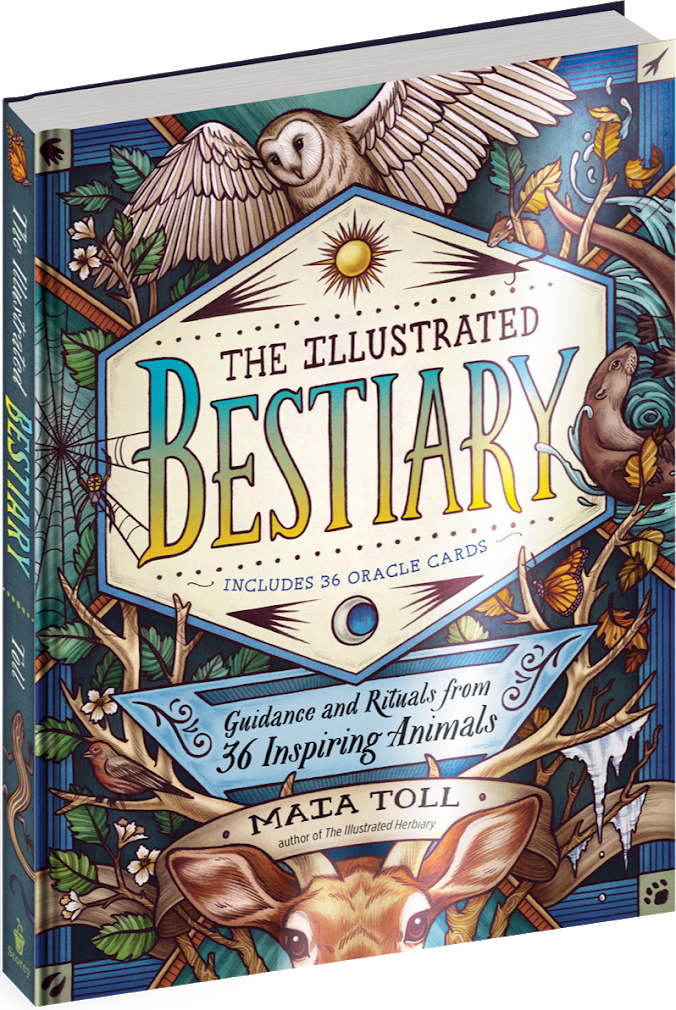 Author and spiritual wellness guide Maia Toll turns the insight and wisdom that birthed The Illustrated Herbiary — her best-selling volume on the mystical power of plants — to the animal kingdom.
with Maia Toll
__________________________________
Tuesday, November 19th 
8:00-10:00pm
Connecting with the Natural World to Awaken Your Intuition.
One of the greatest gifts of working with the natural world is realizing that you are not alone. You're surrounded by a world that whispers advice and offers direction. But how do you learn to decipher the words of nature?
Understanding how you receive information, as well as knowing which archetypes and elements animate your outer world and invigorate your soul, will unlock a world of connectivity.
Bring a journal or sketchbook to this illuminating, experiential class!
$25 advance
$30 at the door
Each ticket will include a signed copy of The Illustrated Bestiary.
Ticket will include 10% off at the cafe and 15% off Kollectiv Spa services (not including NutriDrip and HigherDOSE)
tickets are non-refundable.

Maia Toll has been many things — including a horseback riding instructor, a clinical herbalist, and a university teacher — but being an award winning author is by far her favorite. Her Wild Wisdom series, featuring bestseller The Illustrated Herbiary, The Illustrated Bestiary, and The Illustrated Crystallary, offers a glimpse into the knowings of the natural world and the wilds within ourselves — insights Toll contemplated during her yearlong apprenticeship to a traditional healer in Ireland. When not reading books and "talking" to trees, stones, and her two dogs, she helps to run Herbiary, a multi-city natural wellness and sacred living store she owns with her partner, Andrew.
She teaches and blogs to an international following at maiatoll.com.
The Alchemist's Kitchen is a unique destination in the Bowery. More than a botanical dispensary and a whole plant tonic bar serving elixirs and healthy treats, we are a gateway into a conscious lifestyle and community, through our plant-based products, wellness events and transformational workshops.
Kollectiv is an urban retreat center in Manhattan's East Village designed to restore your mental, physical, emotional, and spiritual wellbeing. It's upper level is home to a plant-based cafe and a Herbal dispensary/herbal pharmacy (The Alchemist's Kitchen), while its lower level hosts the most advanced healing modalities in the wellness arena. Our spa partners offer kryo therapy (KryoLounge), infrared saunas (HigherDOSE), vitamin IV therapy (NutriDrip), as well as electromagnetic healing, massage and reiki appointments at Kollectiv Spa.